Looking for something similar?
LET'S TALK ABOUT IT!
GOAL
Make drivers and fleet managers self-sufficient in executing quotations.
CLIENT
Leasys, FCA Bank's subsidiary, is a leader in the sector of Long-Term Rental.
PROJECT
I-QUOTE: Business clients have higher expectations and they are becoming increasingly demanding calling for greater autonomy in the use of Long-Term Rental quotation tools. The demand for innovative and more advanced systems has involved the development of this new tool.
STRENGTHS
Interfaccia grafica intuitiva e velocità d'uso.
LONG-TERM RENTAL IS NO MORE A FUTURE PRODIGY, IT IS ACTUAL
The pioneers of the sector are business clients who have long taken advantage of Long-Term Rental to manage the company's vehicle float. The needs of client firms have guided Long-Term Rental players towards new solutions, from time to time complementary to the mere leasing of fleets. FCA Group confirms its position as market leader thanks to Leasys, which offers a wide range of Long-Term Rental solutions, recently extended with the latest I-Quote quoter, commissioned to Interlogica.
The quoter is not just a simple platform, it is a tool with different facets that allows to carry out different operations, according to the degree of operational delegation:
it grants drivers the power to configure and quote their company car independently, in compliance with the constraints dictated by predetermined car policies;
for fleet managers (FM) it represents a way to assign car policy bands to its drivers, monitoring, approving drivers' quotes and vehicle orders;
in the hands of Leasys back-office operators, it becomes crucial in supporting listing. It is key to driver and fleet managers' approval. It can also set up customer car policies.
Several companies supplying Long-Term Rental services find it difficult to manage many different types of car policies. Thanks to I-Quote, Leasys does not. I-Quote is the tool that allows back-office operators to set up the most common types of existing car policies. This represents an extremely important strength as well as the intuitive interface and user experience that enables you to complete, in just a few clicks, the vehicle configuration, and approval request phases. Our quoter immediately had all the credentials to fully enter Leasys' catalog, offering to its corporate clients a self-quoting tool.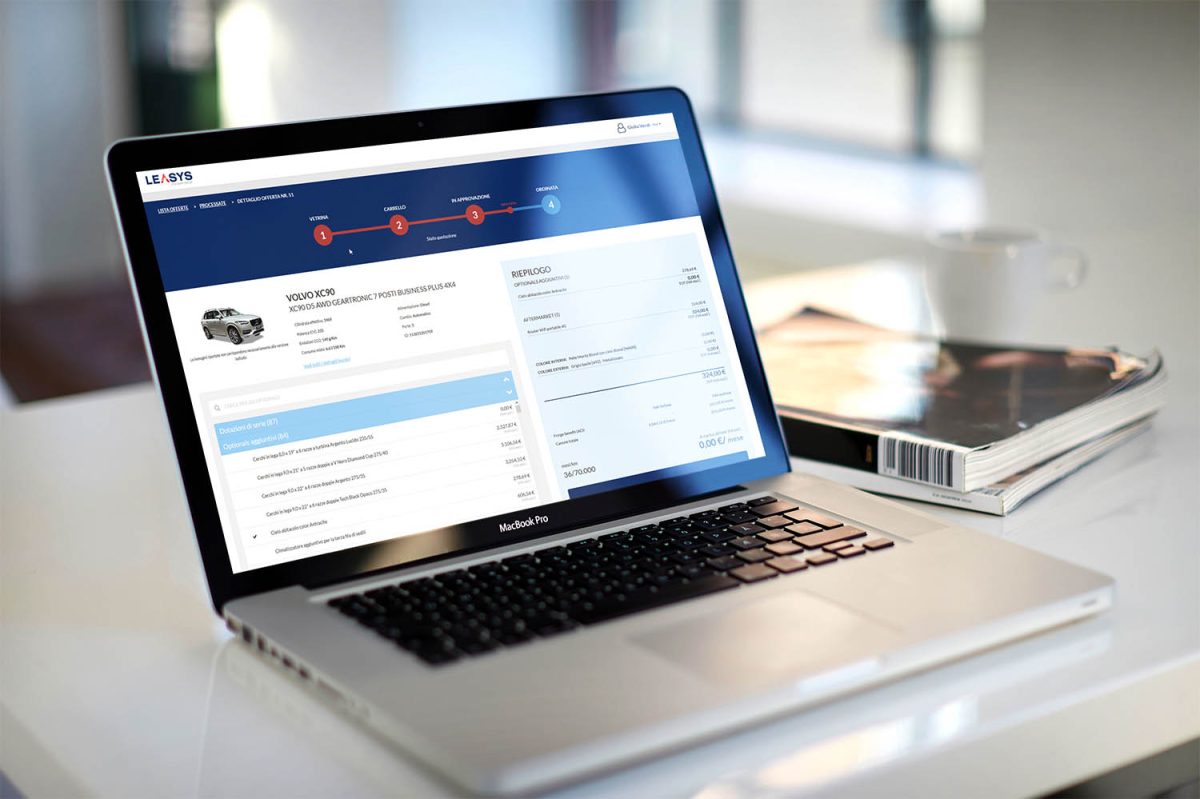 TECHNOLOGY
Amazon's cloud product AWS was a strategic choice to provide more independent and flexible management of services to be system-enabled, and quality performance to support a high load of connected users.
Easy to manage and data leak-proof. We are talking about the identity server, a software that has been integrated into the self-quoting tool, developed by Interlogica, to manage the authentication process outside the application. The Angular 5 framework was used to manage the frontend side of the application.