Looking for something similar?
LET'S TALK ABOUT IT!
GOAL
A single professional platform handling a functional candidates' selection and recruitment process.
CLIENTS
Hirebop is designed for all those who are in need of centralized and collaborative software. Recommended for Startups, Companies (SMEs and large companies), Recruiting Agencies, and Headhunters.
PROJECT
ATS (Application Tracking System), Recruiting, SaaS (Software as a Service)
STRENGHTS
One platform to handle the entire process from creating the job offer to recruitment. Communication between recruiter and candidate is effective with innovative tools such as Cloud video interviews, an integrated messaging system and management of the various selection steps.
CLOUD RECRUITING SOFTWARE ALL-IN-ONE
Using Hirebop you can manage selection with innovative tools in an easy and effective way, with a single platform for all phases of the recruitment process, significantly reducing the time spent in recruiting activities.
It is a multi-user system that means you can involve your team in the selection process by assigning each one a different management level: – Administrator (full access to the application management), – HR Manger (create and manage one or more job offer, invite new coworkers; no management's platform access), – Recruiter (can manage job offers that have been assigned to him).
FUNCTIONS
1° CREATE YOUR CAREER PAGE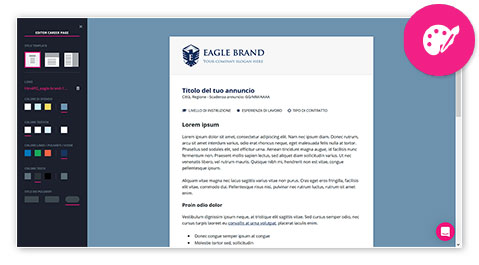 Custom your page
Choose a template and customize your job offers' page. Upload your logo and choose the style and colors given your company identity.
Insert job advertising in your site
Copy and paste the HTML code of your Widget into the pages of your website. Offers will be updated in real time. It's fast and easy.
2° PUBLISH YOUR JOB ADV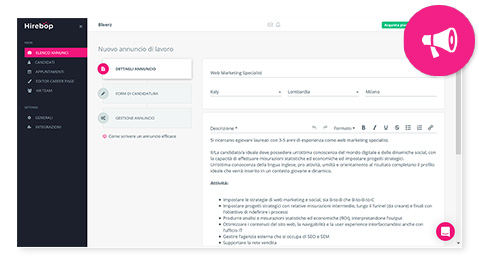 Write your job advertising
Finish writing your job offer. Create the application form and assign to your team the management of the offer.
3° CHOOSE THE CANDIDATES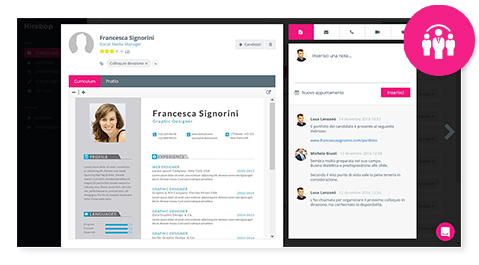 Evaluate candidates
Review received profiles, use tags, assign a rating, enter note and send emails. Everything you need in one screen.
Filter and Actions
Search filters allow you to sort your candidates by setting different parameters such as tags or the source of origin. You can also perform multiple actions with a single click.
4° ORGANIZE JOB INTERVIEWS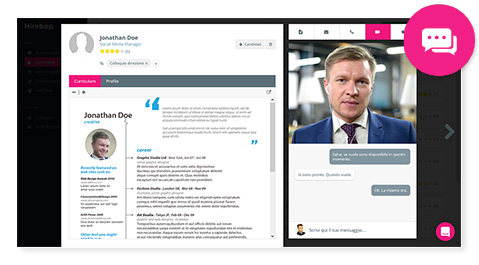 Video interview in HD
Make unlimited video interviews in HD quality. Send to the candidate access link and start video interview directly from the profile screen (no external tools required).
Manage your appointments
Arrange an appointment is easy. Hirebop will send a confirmation email directly to the candidate. It's possible to filter and see all the job interviews, including those of your team
TECHNOLOGY
Performance and scalability drove the entire creation process.
Hirebop was developed with Node.js on the whole application stack. On MongoDB is allocated the database while in the front-end we used BlazeJScome template engine.
External tool: AmazonS3 for the documents save, Stripe for payments' management and subscription plans. Video call ara managed by Twilio's API leader platform in the video, voice and text-messages communication.