The Hospitality industry is constantly changing and is a crucial component of the global economy. However, the pandemic has presented numerous difficulties for the industry, such as making reservations and sanitizing environments, which have required industry professionals to address multiple issues in order to provide a safe and comfortable experience for their guests.
Now, after a period of stagnation, the Hospitality industry is beginning to restart with the help of technology. This allows for the implementation of Smart services and a push towards an innovative 4.0 definition, which improves the safety and overall experience for guests.
INDUSTRY 4.0 vs HOSPITALITY 4.0
So, what exactly does the term Hospitality 4.0 mean?
You may have already come across buzzwords like IoT, Cloud, and Big Data Analytics that are associated with Industry 4.0. Industry 4.0 refers to the fourth industrial revolution, which aims to increase automation through the use of new technologies, ultimately improving productivity and enabling new business models.
Hospitality 4.0 is based on the combination of various technologies, such as connectivity, Data Analytics, Augmented Reality, and Artificial Intelligence, which are advancing at an exponential rate.
In practical terms, Hospitality 4.0 involves applying Industry 4.0 technologies to the hospitality industry to reduce costs, improve the quality of services, and enhance the guest experience. This entails using new technological solutions to automate and streamline processes within hospitality facilities.
The introduction of Big Data and Business Intelligence has led to the emergence of best practices that enable companies to make data-driven decisions based on a vast amount of data, which can be used to drive business growth.
The advantage of Hospitality 4.0 is the ability to leverage vast amounts of data to drive change, make informed decisions, eliminate inefficiencies, and quickly adapt to market fluctuations. This is made possible through the use of smart tools that can interact with each other automatically, easily, and quickly.
That being said, what are the most common issues in the hospitality industry, and how can digital technologies offer innovative solutions to address them?
MAIN ISSUES IN HOSPITALITY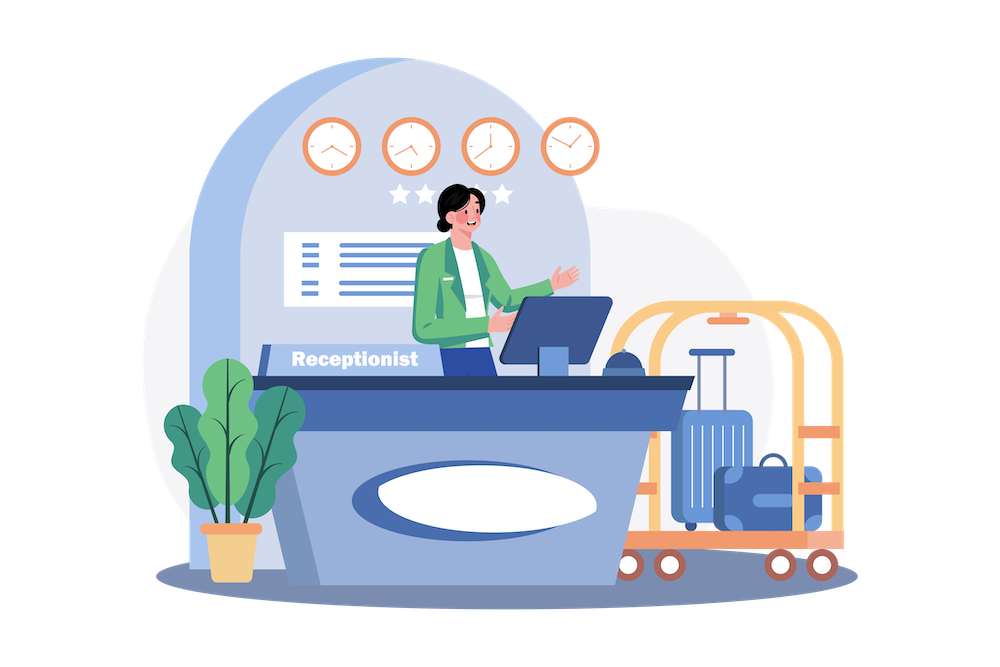 As with any industry, common issues and challenges can be identified within the context of hospitality.
Here, I will focus on some of the most prevalent issues.
Reservation management
Managing reservations can be a complex and time-consuming task. One of the main challenges is keeping lodging availability information synchronized to avoid overbooking, double reservations, or gaps in capacity, while effectively managing all resources.
This can be addressed by implementing management software that automates the process, making it easier, faster, and more intuitive for facility staff to manage reservations operationally.
Check-in and check-out
Automated check-in is no longer a new concept. The prevalence of low-cost airlines has made us accustomed to this practice, but in the context of the hospitality industry, the level of implementation may not be the same.
Manual check-in and check-out processes can be far from efficient. However, various digital solutions such as self-check-in terminals and mobile apps can simplify and speed up the process. These solutions improve the customer experience and staff management of operations, while also offering support to the facility in perfecting the reception of its guests. For example, guests can order extra services before and after arrival at the facility through a smartphone or app.
Smart keys
Managing and distributing keys or cards to access accommodations can be time-consuming, staff-intensive, and prone to errors. It can also be inconvenient for guests to have to restrict themselves to certain arrival times for check-in.
However, with the prevalence of smartphones, it is now possible to manage the opening and closing of accommodations with a simple QR code. This is an effective solution that requires no intervention at check-out, as it is automatically scheduled to expire.
Personal data security
Security is a critical and sensitive aspect that requires extra attention. Accommodation facilities are required to protect their customers' personal data in accordance with privacy laws, such as the European Union's General Data Protection Regulation (GDPR).
One solution to ensure data protection is to implement robust IT security software. This software can allow for the encryption of sensitive data, restrict data access to only authorized employees, and conduct regular security audits of IT systems. Not only is this useful for securing data, but it is also beneficial for enhancing and protecting the company's entire information assets.
Asset Management
Managing daily activities such as room cleaning, room service, maintenance, accounting, and human resource management can be complex and challenging.
Adopting a digital solution for activity management can greatly improve the quality of service and customer satisfaction.
4.0 SOLUTIONS: PROPERTY MANAGEMENT SYSTEM AND BEYOND
There are numerous steps that can be taken to enhance the management of an accommodation facility, but a true change in approach can be achieved by implementing comprehensive solutions such as Property Management Systems (PMS). These systems enable personalized customer experiences and efficient management of the facility's operational activities.
So, what exactly is a PMS?
It is a software solution developed specifically for the hospitality industry, designed to support facility management activities, automate many day-to-day tasks, improve efficiency, reduce costs, and increase customer satisfaction.
When developed with a forward-looking vision, PMS is more than just a management platform – it is a business intelligence tool that can help achieve ambitious goals in terms of occupancy, productivity, turnover, and customer satisfaction.
A great option to consider is a Cloud PMS, which leverages cloud computing technology by utilizing a light internet connection and a web interface to operate. The data and software are stored in the Cloud, which offers numerous advantages in terms of cost and system flexibility.
Using a Cloud PMS enables facilities to surpass their competitors by integrating with any service to offer a higher, more personalized experience in line with customer expectations. It is a significant step forward in terms of management, security, and sustainability.
SMART CAMPING APPROACH
A new and emerging approach in hospitality management systems is Smart Camping – a new frontier in outdoor hospitality.
This approach combines the traditional camping experience with modern technology to provide a more convenient and comfortable vacation experience.
Smart Camping is based on a series of smart technologies that enable facility operators to provide "Smart" services and campers to interact with their surroundings more efficiently and sustainably, thereby improving the quality of the vacation experience.
Among these technologies are IoT and home automation sensor systems that promote the conscious use of energy and allow campers to enjoy nature without sacrificing the comfort and convenience offered by the latest technologies. This approach is also attracting traditional hotel customers to campsites.
AKAI SMART PMS BY INTERLOGICA
I could tell you about the Japanese legend of the red thread, "Akai," but instead, let me introduce you to something that draws inspiration from the meaning of this word – red and, in full, "red thread" – AKAI Smart PMS.
AKAI Smart PMS is a Property Management System designed for those who own or manage accommodation facilities such as camping sites, villages, glamping sites, residences, and hotels. It is a tool that enables you to keep up with the digital evolution and is tailored to your specific needs, with ad hoc functions and a focus on future advancements. AKAI is a combination of technologies such as IoT networks, Cloud, and AI, which provide a good understanding of the industry's needs and valuable touchpoints. Not to mention, there is a constant focus on data management and security.

Host and resources overview through Digital Twin

Advanced booking Management through Artificial Intelligence

Space and Consumption Management

Features and add-on modules for customization
CONCLUSION
In a world that is evolving so rapidly, automation and efficiency are essential. To stay current with your guests' needs, it is crucial to invest in the latest technology, even if it may seem intimidating.
There is no need to fear innovation! On the contrary, innovating is vital for maintaining competitiveness and staying up-to-date with industry developments.
Investing in new technology may involve some risk – I won't deny that – but it can also create exciting opportunities and enable you to overcome challenges more efficiently and effectively… towards a more advanced future.
YOU MIGHT ALSO LIKE:
Big Data trasforms Business Intelligence and Analytics platforms
5G and IOT: the Fourth Industrial Revolution