Sustainability cannot simply be a word that is tossed around in our daily conversations without meaningful action behind it. Technology has a critical role to play in helping companies achieve their sustainability goals. Recently, we had a lengthy conversation with Eric Ezechieli, co-founder of NATIVA, on the topic of B Corps and Benefit Corporations, and he helped shed some light on this important issue.
ERIC EZECHIELI, INTRODUCING MYSELF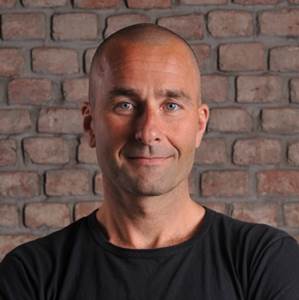 I am a regenerative entrepreneur, as well as the co-founder and Chief Evolution Officer of Nativa, which is a strategy and design consulting firm. We are not only Europe's first certified B Corp® and Benefit Corporation, but I also serve as the President of The Natural Step International.
My professional identity encompasses a wide range of roles, including that of a university lecturer and teacher, keynote speaker at numerous leadership forums, and an alumnus of prestigious institutions such as Singularity University, Stanford, and Bocconi. Additionally, I am an avid mountaineering skier and long-distance triathlete.
Throughout my life, I have maintained a deep passion for both technology and business. Growing up, I had the opportunity to experience nature and its delicate balance firsthand, while simultaneously being immersed in the complex technological universes of my parents, who were both physicians.

TECHNOLOGY AND BUSINESS: ENGINES OF IMPROVEMENT
Just a few years ago, people were dying at an alarming rate. If we travel back to the 19th century, England was considered a nation with advanced standards, yet the life expectancy was only around 40 years old and the average annual income equated to roughly 3,000 euros in today's currency. Today, these numbers may seem inconceivable and "hellish", but at that time, they were the norm. Throughout the world, a nation with these characteristics was considered the best, yet it was actually a nightmare of unsanitary conditions, violence, abuse, slavery, pollution, vulnerability, and uncertainty – completely different from the world we live in today, which we might describe as "rich".
For the past two centuries, technology and business have served as two fundamental drivers of evolution. Especially now, with new challenges on the horizon that require us to re-evaluate our existing models, these two forces are more important than ever before.
Over the past 2,000 years, there has been significant progress in the field of innovation and the creation of things that did not previously exist. Alongside this, there has been an investigation into the capacity of businesses to make these inventions available on a large scale. These advancements have brought us to where we are today.
However, just because something has worked in the past does not necessarily imply that it will continue to work in the future. For instance, it has taken billions of years to accumulate the natural capital that exists on our planet, yet we are burning through it indiscriminately at a rate that surpasses its capacity to regenerate.
The root cause of these imbalances can be traced back to the current economic model, which is based on the fundamental principle of creating value for shareholders and members. From a legal perspective, people and the environment are managed or considered from a compliance standpoint, which means that we respond to specific laws. However, this approach is insufficient because it results in the production of something that has enormous long-term side effects, collectively destroying more value than it creates. This is a significant imbalance that characterizes the current business model.
At NATIVA, we actively work to change the status quo and help companies and organizations transition from extractive models that only aim to generate profits for shareholders to regenerative models that give back to the rest of the population and the planet.
REGENERATIVE ENTERPRISE: BENEFIT CORPORATIONS AND BCORP
As mentioned previously, the twenty-first century is a period characterized by virtuous advancements, but it is also rife with significant challenges. The world's population is increasing at an exponential rate, as is consumption. A business paradigm that has an extractive impact concentrates more and more value on itself, exacerbating the issue.
Globally, a "classical" business can be viewed as a collection of interconnected individuals within an organizational machine who perform activities and generate results, extracting and concentrating value at every turn.
In contrast, a regenerative structure not only extracts value but also distributes it elsewhere. By measuring how and how much value is being generated, we can add purely economic-financial value to social and environmental value, understanding how these two macro-families of economic and non-economic value are interrelated. The measurement aspect is a crucial concept and serves as a cornerstone, as it allows us to monitor the progress and balance of the process. After all, we cannot improve what we do not measure. Currently, our measurements suggest that we are collectively degrading the biosphere in a systemic manner, with the consequences of this imbalance already evident.
One of the most noticeable challenges is the widespread reluctance to question the foundations of a model that is perceived as the only viable option. However, around 2005, a group of entrepreneurs began to challenge the limitations of the capitalist model and sought to understand the extent to which a company creates or extracts value. They started developing standards and measurement tools and asked themselves important questions such as: How can we challenge an established model that only focuses on creating value for shareholders? How can we transform from one model to another?
The entrepreneurs then proposed finding new legal forms of business that would still be driven by profit goals but would also aim to improve upon the existing market. The objective of this type of organization was to create value for both shareholders and other stakeholders.
By combining these two components and measuring their effects, a new legal form called a Benefit Company or Benefit Corporation was established. This is a company that openly pursues profit goals and value creation for the environment and society, and aims to benefit all stakeholders by operating in a responsible, sustainable, and transparent manner.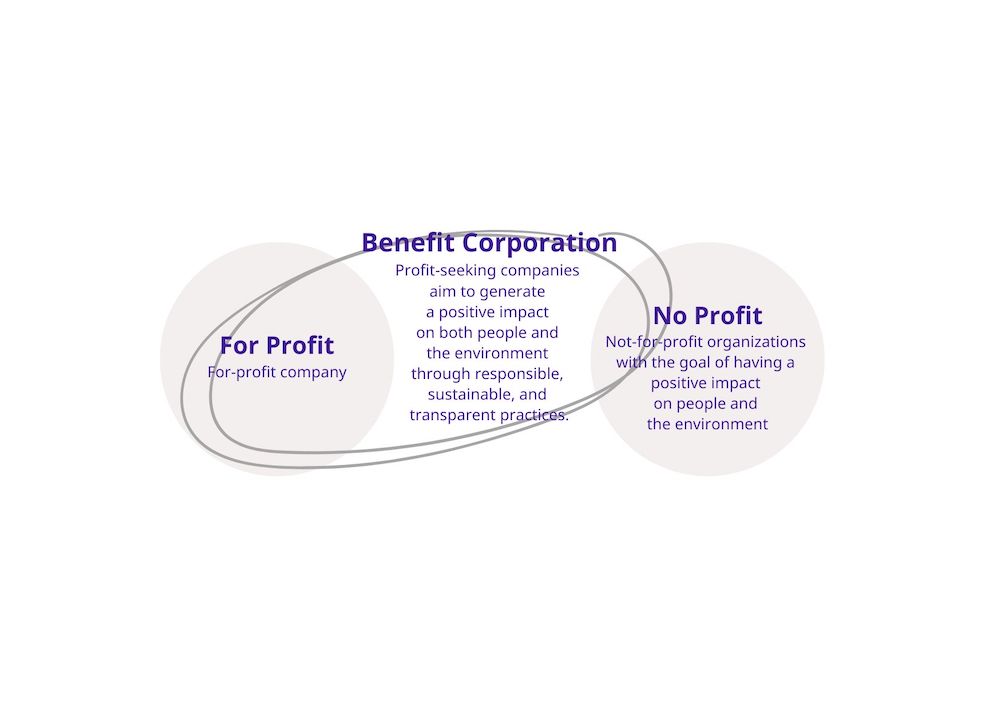 This provision is explicitly stated in the company's bylaws, specifically under the section titled "corporate purpose." As such, it serves as the directive given by the shareholders to the management team.
The key difference is that, in the event of a change in management, the entry of new investors, or a shift in market conditions, there is a possibility that the new manager may have different ideas. However, by returning to the bylaws and rereading the company's purpose, it is clearly and irrevocably defined, ensuring that it remains constant and unchanged.
An organization that embraces this model evaluates not only the economic value it generates but also the social and environmental value it adds.
Once a certain level of excellence is achieved, the organization may become eligible for B Corp certification. This is a certification issued by the non-profit organization, B Lab, which also advocated for the legal form in the United States. Certification is granted based on the attainment of a measurable score through the BIA-B Impact Assessment, a free digital tool that assists companies in measuring and enhancing their impact in five key areas: Governance, Community, Environment, Customers, and Workers.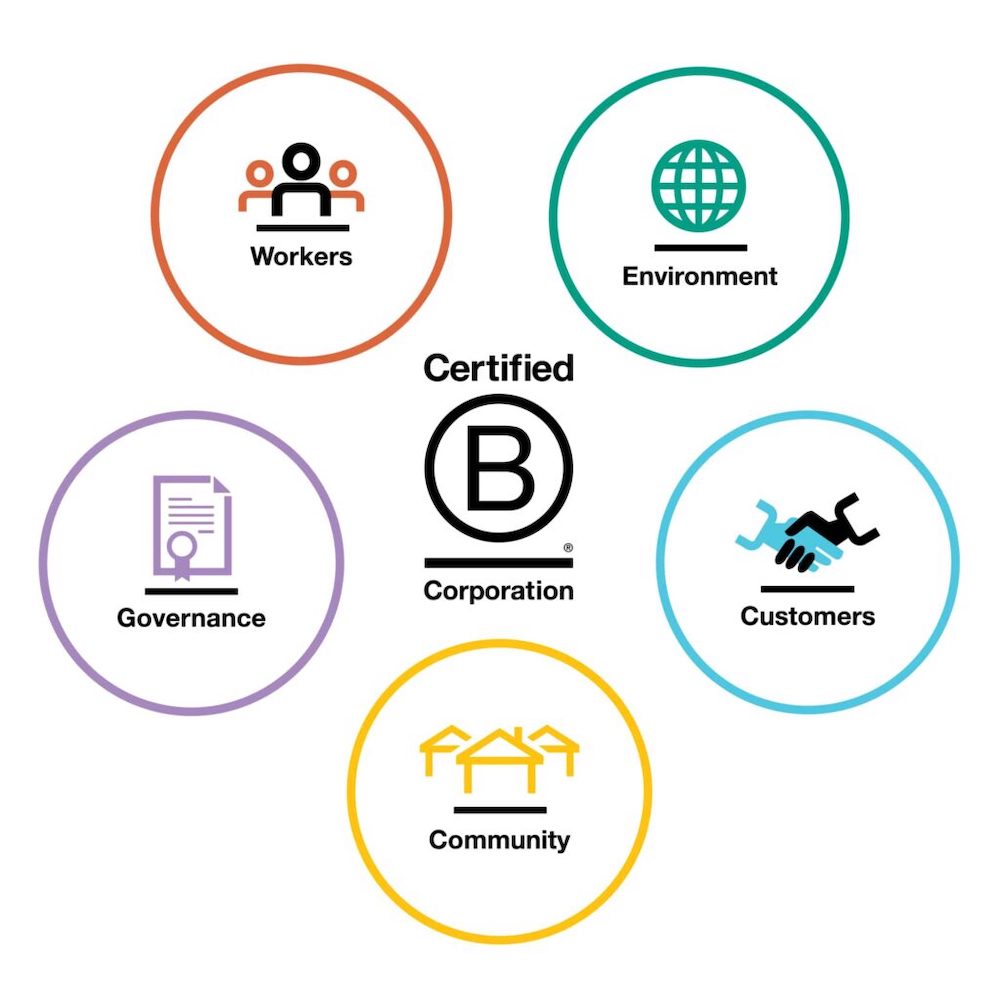 This business approach is rapidly gaining popularity and is being considered by CEOs of major corporations worldwide.
In Italy, there has been a trend over the past 15 years to merge the two elements of Benefit Societies and B-Corp, with a mandate incorporated into the corporate charter and distinct, measurable goals that align to tackle the significant challenges of our time.
Currently, there are nearly 3,000 Benefit Societies that have modified their bylaws and approximately 200 accredited B-Corps, which are companies that meet exceptionally high thresholds in terms of sustainability by precisely measuring their performance.
TECHNOLOGY'S MANY ROLES
The process of change is promoting a shift towards new sustainability goals, and even more importantly, towards regeneration, which is an aspiration that goes beyond merely setting a constant goal.
The question is, how can we make things better without causing harm in other areas? How can we be an all-around positive force in everything we do?
Technology is a powerful driver in this context, mainly because it provides the know-how and tools necessary for achieving the goals of Benefit Societies and B-Corps. These platforms and measurement tools are based on technology, with the BIA-B Impact Assessment being a prime example. This tool allows any company to register for free online, enter its data, and understand its performance in terms of sustainability and environmental and social impact. This enables the company to assess whether it meets the minimum requirements for certification. Globally, approximately 200,000 companies are currently using this platform.
While these numbers are encouraging, they are still insufficient due to the magnitude of the challenge. The positive aspect, however, is that there is still immense room for improvement. To accelerate adoption and amplify the impact of certain choices and solutions, it is essential to have tools that facilitate uptake.
Another interesting aspect of technology to highlight is its "vertical" application in solving specific problems and challenges. If we examine the European Union, one of the most pressing challenges and main political, strategic, and economic goals is decarbonization with the achievement of climate neutrality.
In other words, we need to stop using oil, gas, and coal and give up fossil energy altogether. This requires a complete redesign and reconfiguration of everything, which is a breakthrough of unprecedented proportions, considering that the world economy relies on fossil fuels for 82% of its energy needs.
This opens up an infinite space for change, not only technologically but also culturally.
Another element to consider is the nature of technology as a tool of business, serving either a regenerative or extractive process. This applies to all types of technology, including information technology, materials technology, medical and biological technology, agricultural technology, and more.
If technology development follows an extractive business paradigm, it will almost certainly lead to accelerated extraction. However, if it is embedded and developed within a regenerative paradigm, it will change the speed and scale to restore sustainable balances for the better.
This represents a great crossroads at which we view technology as an enabler and diffuser of good things.
One of the biggest obstacles to adopting a regenerative paradigm is distrust or the fear of lost shareholder profits. Additionally, change itself involves more energy consumption than maintaining the status quo, which can create inertia in human behavior. However, entrepreneurs themselves are often the people most likely to embrace change.
BENEFITS OF BEING A REGENERATIVE BUSINESS
After delving into this exploration, a question arises: Does being a regenerative company benefit everyone, including shareholders?
The answer is a resounding yes, as you are, in one way or another, addressing a need or desire.
There is substantial evidence indicating that companies with a better sustainability profile perform better from a business perspective, both in good times and in less favorable ones. In particular, during challenging times, they demonstrate greater resilience and anti-fragility, with an enhanced capacity for innovation and performance.
Philosopher William MacAskill argues that the evolution of civilization oscillates between moments of fluidity and plasticity and moments of rigidity. During chaotic crisis situations, we find ourselves in a state of plasticity, as if it were a mass of glass that can take any shape when heated. We are now moving towards fluidity, where the possibility of shaping the future becomes more plastic.
The effectiveness of the mechanism is evidenced by the endeavors of prominent sustainability organizations globally. Companies capable of showcasing the advantages and appeal of a sustainable future, juxtaposing it with an unsustainable one that defies the principles of physics (wherein consuming more than what is replenished is not feasible), provide compelling demonstrations.
In the coming years and decades, it is crucial to navigate this "plasticity" with caution, as new horizons of change and evolution unfold, unlike anything seen in the past 30/40 years.
– – –
This text is excerpted from an interview featured in the Human & Tech series, which is available on our YouTube channel.
ERIC EZECHIELI – Regenerative entrepreneur. His objective is to accelerate innovation in business to transform it into a driving force for the regeneration of the biosphere, individuals, and society. He is a co-founder of Nativa, which is Europe's first Benefit Corporation and B Corp. In 2016, he was recognized as the "Most Valuable Player" by the global Benefit Corporation movement for introducing the movement and legal framework to Italy. He received "The Good Lobby Award" in 2018. He serves as the Chairman of The Natural Step International, co-founder of SingularityU Italy, and a member of the "G7 Advisory Board on People-Centered Innovation." He holds a Bachelor's degree in Economics from Bocconi, a Master's degree in Sustainable Innovation & Education from Stanford, and is an alumnus of Singularity University's Global Solutions Program at @NASA Ames, California. Additionally, he is a Faculty Member at Singularity U.
NATIVA is a regenerative design and sustainable innovation company. It promotes the advancement of business and society in ways that generate a positive impact on people and the planet while fostering happiness. Nativa holds the distinction of being Europe's first certified B Corp® and the world's first Benefit Society. It also serves as the B Lab Country Partner for Italy. As an innovation hub of The Natural Step, Nativa oversees its business consulting operations. Nativa assists companies in integrating purpose-driven innovation into their core values, enhancing business performance, and becoming a regenerative force. Moreover, Nativa develops new enterprises and manages activities that are intentionally designed to regenerate humans and the biosphere.
For more information, please visit www.nativalab.com
– – –
FURTHER INFORMATION ON BENEFIT CORPORATION AND B CORP
A Benefit Corporation, known as Società Benefit in Italian, is a legally recognized business entity in Italy. On the other hand, B Corp is a certification granted by B Lab after successfully completing the B Impact Assessment (BIA). Companies have the option to choose either one or both designations voluntarily.
To become a B Corp, a company must achieve a final score of 80 or higher on the Assessment. This certification allows the company to join the B Corp community.
In Italy, companies are free to take the Assessment to measure their impact and compare it to B Corp standards. However, once they obtain the certification, there is an obligation to convert into a Benefit Corporation within 2 years.
After receiving the B Corp certification, the company needs to undergo the assessment and approval process by B Lab every two years. Conversely, if the decision is made to remain a Benefit Corporation, the annual Social Impact Report must include a self-assessment of the company's societal and environmental benefits.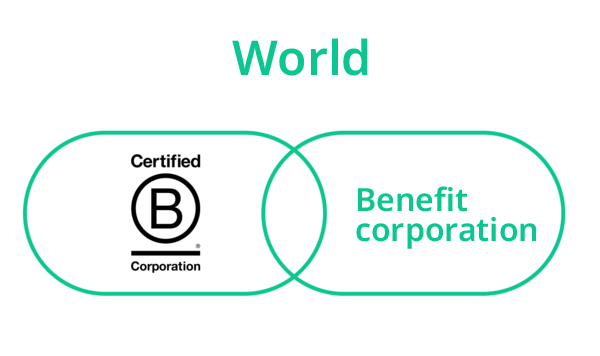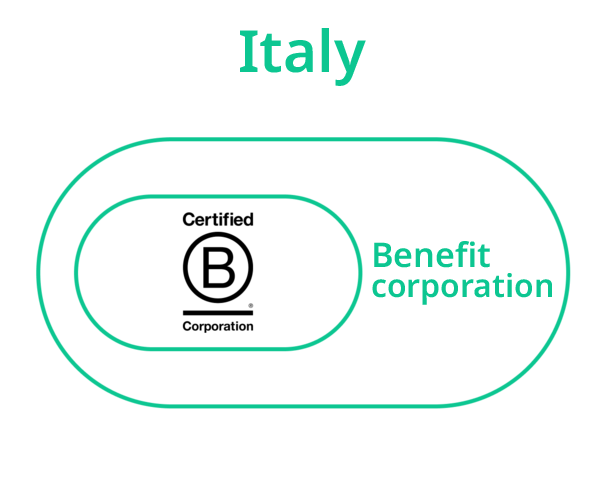 YOU MIGHT ALSO LIKE:
Company Purpose: why we need it now more than ever
The learning organization: who, how, why
Design for Humanity