Code in the Dark took place fot its second year in the underground location of ARGO16 in Venice. It is an international format, a unique contest that has involved some thirty front-end developers in the only challenge of "blind coding" in Italy and more than 200 people to watch.
After a couple of weeks, Fabrizio Calderan, winner of the "CODE MASTER 2019" title, recalls his adventure at Code in the Dark.
The spotlights have gone out, the keyboards have cooled down, the music resonates in our heads more and more slowly, but the enthusiasm and adrenaline are still strong in our spirits.
Enjoy the reading!
WHO IS FABRIZIO CALDERAN? INTRODUCE YOURSELF.
I live near Treviso and I am 41 y.o.
I like to describe myself as a fundamentally curious and active person: I am a passionate reader, I especially love mathematical/physical books, I am an explorer of the IoT world (Arduino and ESP8266) I like training and running before dawn, playing bass and playing with my children (4 and 7 y.o.) whenever I can. In short, I just can't get bored and, of course, I have a deep passion for the frontend.
This passion grew by chance to tell the truth because, after graduating in computer science in 2004, I started working as a full-stack developer.
In those years I was also very active in a well-known Italian IT forum and I was asked to become a moderator of some frontend sections. I didn't have any particularly knowledge about this topic but to be useful to that community I decided to study; and the more I studied, the more I realized that I really liked that world very much because it was important to find a way to guarantee cross-browsing despite the bad browsers of those days (IE5 included). It was in effect both a feeling of continuous serendipity and a challenging hacking exercise so I decided this should have become part of my daily work.
I have been working for AKQA (formerly H-art) for 14 years now as a frontend developer where I have the opportunity to work on really important projects and I hope to continue developing for a long time.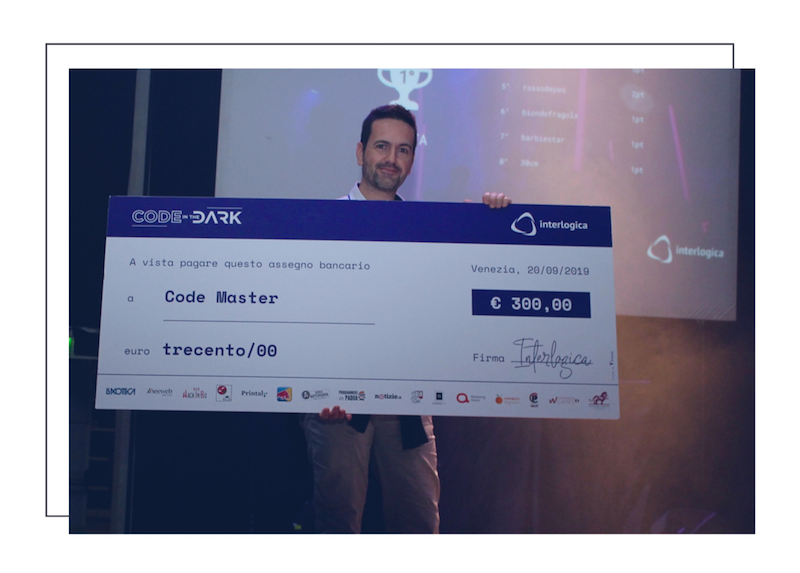 ©Consuelo Pellizzon
HAVE YOU EVER HEARD ABOUT CODE IN THE DARK BEFORE ATTENDED? HAVE YOU EVER JOINED A CODING OR HACKATHON CONTEST?
I heard about the Code in the Dark from my colleagues who attended last year. In the past I joined a couple of codeJams events organized by Google, but their format makes participation a bit difficult (and the proposed challenges  are really hard). In 2012, however, I got a second place in a Mozilla DevDerby (a worldwide monthly contest that unfortunately is no longer active) about the RWD. But I must say that this was my first real "live" coding experience.
WHAT WAS YOUR MOTIVATION IN JOINING THE CONTEST?

A motivation (I'm joking, I admit it) is that I had made a bet with Andrea Collet – the winner of the first edition and a work colleague for many years – that I would have won to be able to mention him in an eventual interview. Also, let's be honest, who has never dreamed of receiving a check one-meter-and-half wide?
But, seriously, in my case the real motivation was the need to find myself once again in a challenging situation. This is something that has always belonged to me and I believe that in a job like this it is never really possible to stop and be satisfied with the results obtained; in particular it is very important to study and try to look for personal confirmations that stimulate us to continue and to always find something better.
So the hackatons and contests like Code in the Dark are welcome.
AS AN ATTENDEE, WHAT DO YOU THINK ABOUT THE EVENT'S ATMOSPHERE?

First of all I would like to congratulate all those who work really hard for the success of the event.
Before participating I were a bit puzzled because I believed that with psytrance music, special effects, limited time and above all the presence of a skilled public that measured and analyzed in real-time every single line of code, I would have felt too much "pressure" making the challenge too difficult. Instead I have to admit that I was wrong and, indeed, the atmosphere almost put me at ease giving me the right energy (maybe because I usually listen to prog-metal music while I work?).
That night It was not easy to fall asleep from the adrenaline accumulated, but it was definitely worth it
HOW WAS THE REAL-TIME "BLIND CODING" THING? ANY SKILLED COMPETITOR THERE?

Coding with these constraints really was an interesting experience especially because, if I initially thought I had to fight against time, while minutes were passing away I realized instead that I had to fight against my usual way of writing code.
When you have only 20 minutes and no preview, the context becomes completely different from the usual: you have to strive to radically switch the mindset by simplifying the code to the extreme, using solutions that you normally wouldn't use and it's not so easy to do it suddenly, especially if you're used to semantic code or verbose approaches like BEM; "Simplicity is the supreme sophistication" is a quote that I agree with.
Apart from this introspective aspect I must also say that I enjoyed it very much, especially seeing the (devastated) output of the code I wrote, and before each preview I told myself: "please, any result but not a white screen".
Talking about other participants, 3 colleagues of mine (lol666, wololo and stanislav) attended this contest and knowing their skills I was afraid they would get me in trouble, but the composition of the preliminary rounds favored me a little, avoiding the direct challenge with them. In the final I didn't think I had more chances than others and one of the participants (Goku) seemed particularly inspired. After the previews I was still not sure I had made it, until the voting results appeared.
©Consuelo Pellizzon
IS IT LIKELY THAT YOU'LL JOIN US NEXT YEAR?
Yes, absolutely. Save me a spot already because I want to perform even better.
And I hope the next edition will see even more participants.
You might also like:
The underground contest you were waiting for is back!
Increase the fun! At Code in the Dark using your smartphone you enter the voting room
Interlogica presents Super Ultra Dev Fighter Arena